The current APA 6th Edition set of citation guidelines offers pretty clear rules on how to cite and reference a website in your research paper.
Because so much research can be conducted online today, it is important to be aware of what the rules for citing and referencing are.
In this article, we'll discuss how to cite a website using APA.
We'll also give lots of examples of how various types of sites can be referenced and where to look for reference info on those sites.
Let's get started!
Structure
Newspaper Website
APA uses a basic, simple structure for referencing online articles:
Author's last name, First initial. (Year, month day). Title of article. Title of Website
(Newspaper). Retrieved from URL.
Here's an example of a reference that would be written were The New York Times used as an online source:
Sanger, D., & Sang-Hun, C. (2017, September 4). U.S. urges fuel cutoff for North
Korea, saying it's 'begging for war.' The New York Times. Retrieved from https://www.nytimes.com/2017/09/04/world/asia/north-korea-missile-test.html?ref=todayspaper
Notice that the "&" symbol is used when two or more authors are associated with the same article.
Also see how the title of the article is in all lower case letters except for the first word of the title and proper nouns. The title of the website is, however, capitalized like a title of a journal.
Look at the image below to see where you would find the pertinent information when referencing a site like this:

The in-text citation for this article would appear like this:
Sanger and Sang-Hun (2017) noted that North Korea's response to the U.S.'s statements leant towards identifying the latter as provocative.
Or like this:
North Korea turned the rhetorical tables on UN Ambassador Nikki Haley by asserting that it was the U.S. and not the DPRK who was, in fact, "begging for war" (Sanger & Sang-Hun, 2017).
General Website with No Author
As APA guidelines dictate, when there is no author given for an online article, the title of the article is shifted to where the author's name would ordinarily be in the reference.
Additionally, if the website is a general one and not a newspaper or online journal or magazine, there is no need to supply the website title in the reference.
The structure would look like this:
Title. (Year, month day). Retrieved from URL.
Here's an example of a website with an article where no author is given credit for the article: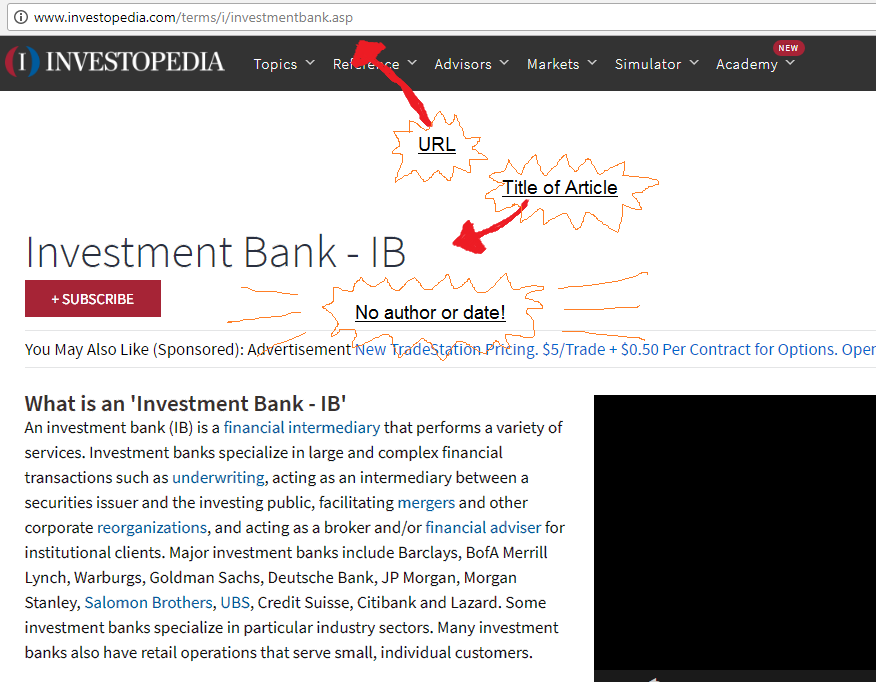 In the above example, we can see the article title.
We also notice that no date for publication is given.
When no date is given, APA recommends using the abbreviation (n.d.) in place of a publication year.
The reference then would look like this:
Investment bank—IB. (n.d.). Retrieved from
http://www.investopedia.com/terms/i/investmentbank.asp
The in-text citation would be a little different. The title of the article would be used instead of the author's name and it would be placed in quotation marks and the words would all be capitalized.
For example:
Investment banks do a lot for customers: they act as brokers, financial advisors and as underwriters ("Investment Bank—IB," n.d.).
Online Journal
Citing scholarly or academic journals can be a huge part of research.
Online databases make it easy to search for and read academic articles on the Internet.
So knowing how to cite and reference them is just as important.
Here's the format for referencing an online journal:
Author's last name, First initial. (Publication Year). Article title. Periodical Title,
Volume(Issue), pp.-pp. DOI:XX.XXXXX or Retrieved from journal URL.
Let's say you're using the following article available online:
You can find a lot of reference information just by scanning the site.
However, you'll notice that no page numbers are given and no DOI. You can always use the URL. Or, if you click on the link "Article info" you'll see that it gives us what we're looking for.
The point is—every database will be different. Look around for what you're needing—and you're sure to find it.
So how would this reference look?
Like this:
Ball, J., Murrells, T., Rafferty, A., et al. (2014). 'Care left undone' during nursing shifts:
Associations with workload and perceived quality of care. BMJ Quality & Safety, 23(2), 116-125.
Notice that if there are more than four authors, the first three are given and the abbreviation "et al." is used to denote the others.
An in-text citation for this source could appear like this:
As Ball, Murrells, Rafferty et al. (2014) note, continuity of care is a major factor in determining quality of care for patients.
Or like this:
Because nursing shifts might change while patients remain, continuity of care can sometimes be an issue that impacts patient perceptions of care quality (Ball, Murrells, Rafferty et al., 2014).
YouTube
Videos can also be great sources of information for researchers.
For that reason, YouTube has emerged as a terrific store of information.
So how do you cite and reference a video from YouTube?
Just like this:
Name of Uploader. (Year, month day). Title of video. [Video file]. Retrieved from
URL.
For example:
Isaac Baquerizo. (2013, April 19). Beach Boys—Be true to your school. [Video file].
Retrieved from https://www.youtube.com/watch?v=o7sLDziV2hs
If you wanted to cite the source in the text of the paper, you'd use the uploader's name and the year of publication—just as though you were citing a book or newspaper article.
Twitter
Social media is all the rage these days, and a lot of info gets published on sites like Twitter and Facebook.
If you want to cite a tweet, use this example to help guide the process.
Gates, B. [BillGates]. (2013, February 26). #Polio is 99% eradicated. Join me &
@FCBarcelona as we work to finish the job and #EndPolio. VIDEO: http://b-gat.es/X75Lvy [Tweet]. Retrieved from https://twitter.com/BillGates/status/306195345845665792
In the tweet is a link to a video—which, you can see, is referenced above.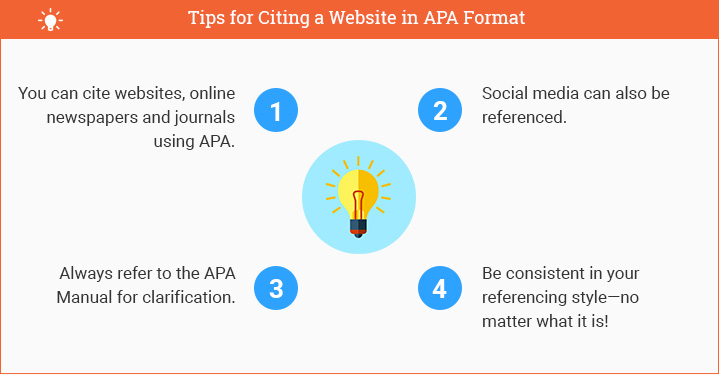 Conclusion
How to cite a website in APA is pretty simple once you figure out the basics.
Knowing how to do it can be a great way to get your research off to an early and easy start.
Because the Internet is so readily available to so many people in this day and age, having a solid understanding of how to use it and how to cite and reference properly Internet sources can be a huge boon to any writer.
For more information on how to reference in APA style, you can always turn to Purdue OWL—a great source of information in and of itself.
However, the best source for knowing how to cite according to up-to-date APA standards and guidelines is the APA manual itself.
Be on the lookout for updates to the citation method—you'll want to know what they are when they do hit because teachers will be expecting students to adhere to the latest style guidance.
Familiarizing yourself with this guide and practicing the formats will help you when you start to write your research paper.
The key, of course, is to always be consistent in your writing and citation style method.
This means that if you start out with APA—finish with APA!
Don't switch to Chicago or MLA halfway through just because you don't know how to cite something correctly in the style you started off in.
Good luck!
Helpful Hints and Reminders:
1. You can cite websites, online newspapers and journals using APA.
2. Social media can also be referenced.
3. Always refer to the APA Manual for clarification.
4. Be consistent in your referencing style—no matter what it is!