Below is an example of a Curriculum Vitae (CV).  A Curriculum Vitae is a short account of an individual's education, qualifications, and previous work experience, which is used as a job application.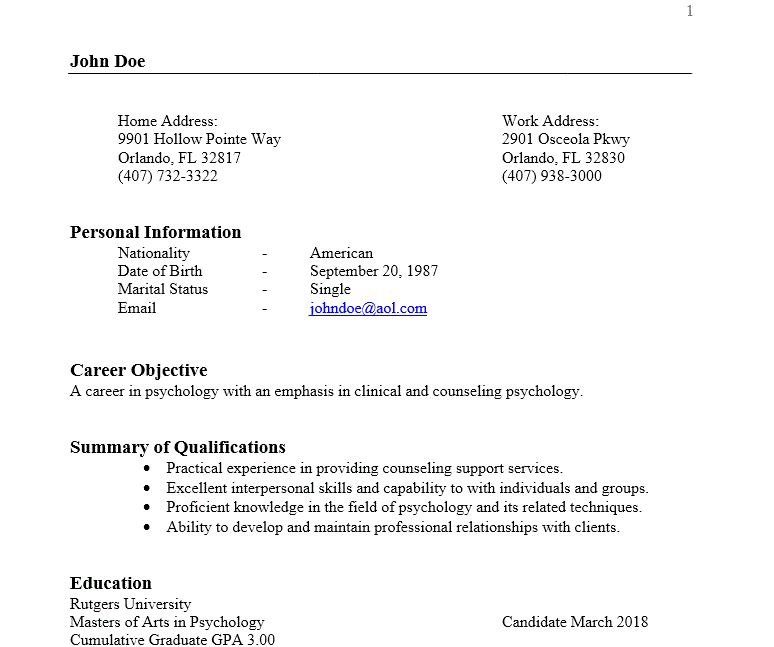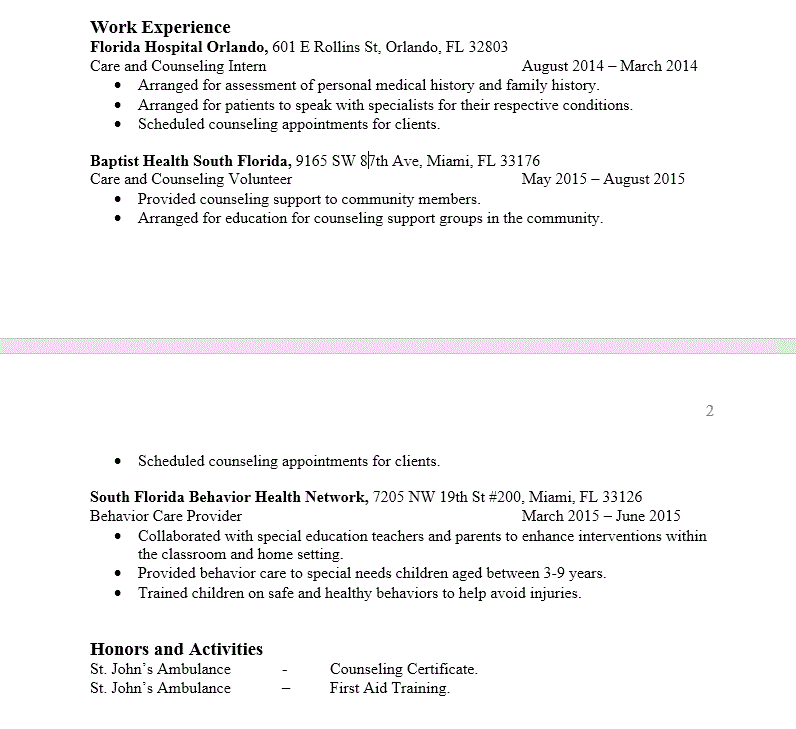 John Doe
Home Address:
9901 Hollow Pointe Way
Orlando, FL 32817
(407) 732-3322
Work Address:
2901 Osceola Pkwy
Orlando, FL 32830
(407) 938-3000
Personal Information
Nationality – American
Date of Birth – September 20, 1987
Marital Status – Single
Email – [email protected]
Career Objective
A career in psychology with an emphasis in clinical and counseling psychology.
Summary of Qualifications
Practical experience in providing counseling support services.
Excellent interpersonal skills and capability to with individuals and groups.
Proficient knowledge in the field of psychology and its related techniques.
Ability to develop and maintain professional relationships with clients.
Education
Rutgers University
Masters of Arts in Psychology Candidate March 2018
Cumulative Graduate GPA 3.00
Work Experience
Florida Hospital Orlando, 601 E Rollins St, Orlando, FL 32803
Care and Counseling Intern August 2014 – March 2014
Arranged for assessment of personal medical history and family history.
Arranged for patients to speak with specialists for their respective conditions.
Scheduled counseling appointments for clients.
Baptist Health South Florida, 9165 SW 87th Ave, Miami, FL 33176
Care and Counseling Volunteer May 2015 – August 2015
Provided counseling support to community members.
Arranged for education for counseling support groups in the community.
Scheduled counseling appointments for clients.
South Florida Behavior Health Network, 7205 NW 19th St #200, Miami, FL 33126
Behavior Care Provider March 2015 – June 2015
Collaborated with special education teachers and parents to enhance interventions within the classroom and home setting.
Provided behavior care to special needs children aged between 3-9 years.
Trained children on safe and healthy behaviors to help avoid injuries.
Honors and Activities
St. John's Ambulance – Counseling Certificate.
St. John's Ambulance – First Aid Training.
References
Baptist Health South Florida. (n.d.). Care and Counseling Services. Retrieved May 24, 2017, from https://baptisthealth.net/en/about-baptist-health/pages/care-and-counseling-services.aspx
Florida Hospital. (n.d.). Genetic Counseling. Retrieved May 24, 2017, from https://www.floridahospital.com/genetic-counseling
South Florida Behavioral Health Network, Inc. (n.d.). About Us. Retrieved May 24, 2017, from http://sfbhn.org/